---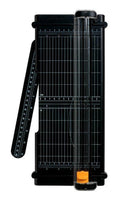 SureCut 12" Paper Trimmer,
Regular price $39.90
Tax included.
Shipping
calculated at checkout.
Keep all of your scrapbook pages crisp and clean with a trimmer specifically designed to meet your needs.
Choose our SureCut™ Scrapbooking Paper Trimmer to bring a new level of precision to your next scrapbooking project. The SureCut™ wire cut-line indicates exactly where the blade will cut your scrapbook page. Our patented TripleTrack™ System interlocks the blade and rail for straight, precise cuts every time. This trimmer can even handle extra-large scrapbook pages with precision — a self-leveling swing-out arm extends the measuring deck to a full 12". A permanent scale and grid cutting mat helps ensure cutting accuracy. An ergonomically designed, high-profile blade carriage is easy-to-grip to help you make accurate cuts quickly. It even includes a lightweight, portable design, so it's easy to take this trimmer wherever your passion for scrapbooking takes you.
Features
Ideal for all your scrapbook page trimming needs
SureCut™ wire cut-line makes it easy to see where blade will cut for unmatched accuracy
Patented TripleTrack™ System interlocks blade and rail for cuts that are straight and steady, never curved or wobbly
Self-leveling swing-out arm extends the measuring deck to 12" to cut extra-large scrapbook pages accurately
1/16" gridlines provide an additional guide for precise measuring
Expanded cut rail with integrated smudge guard holds paper or photos in place without fingerprints
High-profile blade carriage is easier to grip than other trimmers
Cuts multiple sheets of paper at once
Works with either High Profile or Low Profile TripleTrack™ blades, style I
12" cut length
Lifetime warranty