---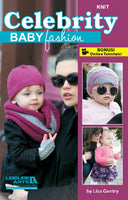 Celebrity Baby Fashion Knit
Regular price $9.50
Tax included.
Shipping
calculated at checkout.
Whenever there's a new addition to the family, everyone usually gets their kicks out of dressing him or her in the most ridiculous outfits. After all, they're only babies for so long, and you've got to get out all of your frills and thrills before they're old enough to object. Why not give your baby picture-proof that they were once the most fashionable kid in town? You don't have to be the next Hollywood superstar to dress your child in the latest fashion trends. You're a knitter. The world is quite literally at your fingertips.


Knit your way to the top with the help of Leisure Arts' Celebrity Baby Fashion. With patterns ranging from a trendy knit cowl for baby to an absolutely gorgeous poncho skirt, this book has everything to keep your little one ahead of the game. What makes this little booklet great is that you don't have to be a pro to get in on this stylish fun. If you've got the basic stitches down, you're good to break out the needles and yarn and get to work. Every pattern in Celebrity Baby Fashion is super easy and can even be taken up by the novice knitter.


That's not all. Celebrity Baby Fashion isn't just a pattern booklet. Never again will you have to stress yourself out trying to learn how to decrease stitches or knit in the round using circular and double pointed needles. Celebrity Baby Fashion will show you the way! This booklet also includes many tutorials (with images) to add to your repertoire of knitting knowledge. Whether you're a beginner in need of a crash course or a seasoned knitted who just wants a little brush up on the classic knitting techniques, these tutorials are sure to come in handy.


Go get yours today, and soon you'll be on your way to the trendiest little knits for that adorable little one in your life.